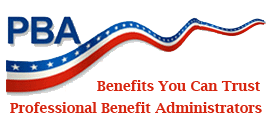 Disability Links

FAQ

Enrollment Form

How To File A Claim

LTD Claim Form

STD Claim Form

LTD Certificate

STD Certificate

You can mail or fax forms to:

Professional Benefit Administrators
1000 Hurricane Shoals Road
Suite C 370
Lawrenceville, GA 30043

Phone: (770) 963-3939
Tollfree: (800) 578-2082
Fax: (770) 963-6126
Tollfree Fax: (888) 264-6975


Disability Solutions - To protect your income, pension and future.
Do you have holes in your safety net?
When you consider that by the time you reach age 30, you're more likely to be disabled than to die before you reach age 60, you realize that your insurance safety net might have some holes in it. While most everyone understands the importance of life insurance, disability insurance is too often overlooked. Consider this:


• 1 in 7 workers can expect to be disabled for five years or more before retirement.
• The average long-term disability absence is 2.5 years.
• Loss of income due to disability was a major factor in 50% of all mortgage foreclosures.
• Federal employees don't have disability insurance as part of their benefit package.

What You Have
Your employer offers leave and disability retirement. While at first glance these programs may appear to provide adequate disability protection - they don't. The main problem is your leave and disability are separate and don't work together. Qualifying for one doesn't mean you'll qualify for the other; therefore there is no set timetable to gauge when benefits begin, end, or how long the benefits will pay out. As a result these gaps in your coverage can leave you financially exposed.

There is a Solution
A supplemental disability insurance plan underwritten by MetLife designed to "fill the gaps" in your leave and disability retirement benefits, providing you with a continuous stream of income you need while recovering. We offer a choice of three programs intended to meet your needs.

Disability Plan Options
Short-Term
Long-Term
Combination
Short & Long-Term
Your Monthly Benefit:
66 - 2/3 of Salary
66 - 2/3 of Salary
66 - 2/3 of Salary
Starts After:
30 Days
180 Days
30 Days
How Long it Pays:
52 Weeks
Till Age 65
Till Age 65

Additional Benefits:


✓ Guaranteed Acceptance, no medical information required.
✓ Low Group Rates.
✓ Benefits paid income tax-free.

Learn more by requesting a quote, or to enroll now click on the links below.
Call 1-800-578-2082 or use our contact form to request a quote.

Click here to download the enrollment form.